Italian Design Week 2021 – Opening Event at Brian Jessel BMW
Promoting the Excellences of Made In Italy Design with Its World Renown Craftsmanship, Superior Quality, Innovative, Cutting Edge Technological Solutions & Global Trend Setting Style
The Italian Chamber of Commerce in Canada-West, in collaboration with the Consulate General of Italy in Vancouver, is organizing the third edition of the "Italian Design Week", a series of cocktail reception events taking place at local Showrooms in Vancouver from October 26 to November 2 to promote the excellences of made in Italy design with its world renown craftsmanship, superior quality, innovative, cutting edge technological solutions and global trend setting style.
Cocktail Reception
Design Talk with Jay Arvind from WestBank Corporation
Trade Show
The main highlight of the opening event at the Brian Jessel BMW Showroom will be the guest of honour, Jay Arvind, from Westbank Corporation, who will share with the audience the latest updates from the "Oakridge Project". After the presentation of the project, there will also be onsite booths set up to preview new design collections by local Vancouver showrooms of Italian design brands, including Ginger Jar Furniture, Poliform Vancouver, Ark Interiors, Cappelleria Bertacchi, Ambry Interiors and Monnaluna.
---
Join Us at the Opening Event!
[button size=" style=" text='Italian Design Week Opening Event' icon='fa-calendar-o' icon_color=" link='https://bit.ly/3aXSeSp' target='_blank' color=" hover_color=" border_color='#f6157a' hover_border_color='transparent' background_color=" hover_background_color=" font_style=" font_weight=" text_align=" margin="]
---
Safety Measures
The steps we are taking to keep our participants, staff and the public safe are described below:
Proof of vaccination is required to access every event.
We will ask guests not to attend if you are sick, if you have been advised to self-isolate, if you have been exposed to covid19.
Reservation in advance is required for some showrooms.
Limited capacity – We will accept only a limited amount of people inside each showroom at any given time.
We will ask guests to respect social distance inside each showroom.
Masks or face shields are mandatory at the entrance and inside the showrooms.
Sanitation will be guaranteed during the check-in and at the showrooms' premises.
We will ask guests to avoid touching the displayed furniture in the showrooms.
---
Questions
Contact us at iccbc@iccbc.com or 604.682.1410 (M/F 9am – 5pm).
Find More Made in Italy around you!
---
Brought to you by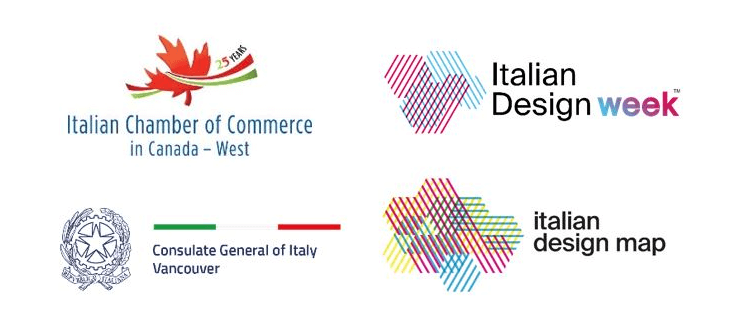 ---
This Season's Participants
[vc_row][vc_column width='1/3′]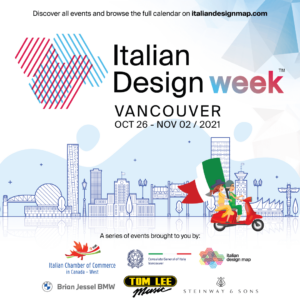 Brian Jessel BMW
Tue, Oct 26 | 5:30pm – 7:30pm
2311 Boundary Rd, Vancouver
[/vc_column][vc_column width='1/3′]

Ginger Jar Furniture
Wed, Oct 27 | 11:00am – 2:00pm
1420 Fell Ave, North Vancouver
[/vc_column][vc_column width='1/3′]

Poliform Vancouver
Thur, Oct 28 | 5:30pm – 8:00pm
779 W Pender St, Vancouver
[/vc_column][/vc_row]
[vc_row][vc_column width='1/3′]

Ark Interiors
Fri, Oct 29 | 4:00pm – 6:00pm
830 W Pender St, Vancouver
[/vc_column][vc_column width='1/3′]

Cappelleria Bertacchi
Fri, Oct 29 | 6:00pm – 8:00pm
131 Water St #121, Vancouver
[/vc_column][vc_column width='1/3′]

Ambry Interiors
Tues, Nov 2 | 6:00pm – 9:00pm
395 Alexander St, Vancouver
[/vc_column][/vc_row]
---
Thank you to Our Sponsors
Brian Jessel BMW