A TAVOLA with the Italian Movie Stars
---
Italian Movie Nights | [button size=" style=" text='L'Italiano nel cinema' icon='fa-video-camera' icon_color='#bbbbbb' link='https://bit.ly/2Rmsede' target='_blank' color='#aaaaaa' hover_color='#ffffff' border_color='#aaaaaa' hover_border_color='transparent' background_color=" hover_background_color=" font_style=" font_weight=" text_align=" margin="] | [button size=" style=" text='E-Cooking Class' icon='fa-cutlery' icon_color='#bbbbbb' link='https://bit.ly/3fv758p' target='_blank' color='#aaaaaa' hover_color='#ffffff' border_color='#aaaaaa' hover_border_color='transparent' background_color=" hover_background_color=" font_style=" font_weight=" text_align=" margin="]
---
Welcoming Italian Heritage Month with a
a celebration of Italian cinema, food, wine and culture
On the occasion of the Italian Heritage Month we've created a course that will honour the Italian culture with a twist: a celebration of Italian cinema, food, wine and culture.
Accompanied by the most celebrated movie stars, we will get cultural insights into Italy's society from the 19th to the mid-20th century, focusing on the gastronomic scene.
In Italy food is culture, creativity, memory, passion. In a nutshell, a collective emotion that shapes the life of the country.
---
[vc_row][vc_column width='1/2′]
[/vc_column][vc_column width='1/2′]
Menu
We've curated a menù that celebrates the dishes from the Italian culinary tradition, based on the movies you will watch.
---
[button size=" style=" text='Download Program' icon='fa-download' icon_color=" link='https://old.iccbc.com/wp-content/uploads/2021/05/italian-movie-nights-in-vancouver-movie-stars.jpg' target='_blank' color=" hover_color=" border_color=" hover_border_color=" background_color=" hover_background_color=" font_style=" font_weight=" text_align=" margin="]
---
Ticket
65$+ GST
Your pass includes a pasta or a panino plus a glass of wine from our member restaurant Sciué because you can't celebrate Italian culture without food and wine!
[/vc_column][/vc_row]
---
Each movie night club will provide you with snapshots of the historical, cultural, and culinary context; Excerpts of the original movies and Recipes.
To register please send an email to school@iccbc.com or call our office 604.682.1410 (M – F, 10am – 4pm).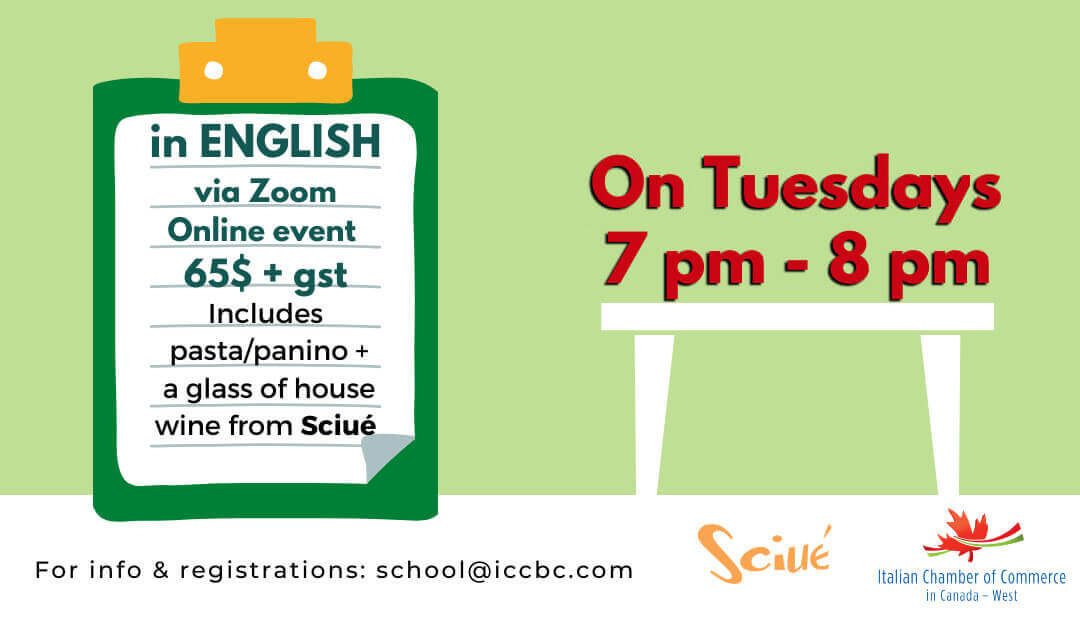 ---
Italian Movie Nights | [button size=" style=" text='L'Italiano nel cinema' icon='fa-video-camera' icon_color='#bbbbbb' link='https://bit.ly/2Rmsede' target='_blank' color='#aaaaaa' hover_color='#ffffff' border_color='#aaaaaa' hover_border_color='transparent' background_color=" hover_background_color=" font_style=" font_weight=" text_align=" margin="] | [button size=" style=" text='E-Cooking Class' icon='fa-cutlery' icon_color='#bbbbbb' link='https://bit.ly/3fv758p' target='_blank' color='#aaaaaa' hover_color='#ffffff' border_color='#aaaaaa' hover_border_color='transparent' background_color=" hover_background_color=" font_style=" font_weight=" text_align=" margin="]
---